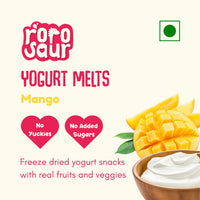 Perfect snack for your baby or toddler
10% goes toward feeding a baby
✅ Pack of 2 Muskmelon Mango
✅ Pack of 2 Sweetpotato Apple
Make way for Roro's favourite fruity flavours! Comes in a pack of 2 Muskmelon Mango and 2 Sweet Potato Apple—your little one is bound to ask for more!
✅ Muskmelon Mango:
Our Mango Muskmelon Mango Baby Puree is a sweet little dance of tropical mangoes and juicy muskmelons, swirled together just to make your baby's taste buds giggle! With each spoonful, this smooth blend sends a parade of vitamins and antioxidants, all set to help your little one's growing immune system.

✅ Sweetpotato Apple:
Rich in all the good stuff – vitamins, minerals, and fibre, this little double-ingredient puree is like a warm, nutritious hug, ready to support your little one's growing needs. The smooth and creamy blend is made of just two ingredients—sweet potato and apple!


This pack can be enjoyed by babies above 6 months of age.
Toddlers 2+ years old can enjoy them as a healthy snack!
Ready-to-feed. Squeeze in a clean spoon or bowl to feed your baby.
OR
Toddlers can directly slurp from the opening. Sprinkle salt if your toddler prefers.
Store in a cool and dry place. Once opened, consume immediately or keep in the fridge and consume within 24 hrs.
Just like homemade baby food
Try our other yummy recipes!